At midnight on New Year's day UK banks, payment institutions and electronic money institutions lost their right to offer services into Europe.
At the same moment, EU financial institutions lost their right to offer services into the UK except where the UK had unilaterally agreed that they could continue. The lists of those who can (temporarily) continue were published by the FCA at 11 PM London time as the Temporary Permissions Regime and the SRO.
Those who run directories of European spent New Year's day extracting the data from the TPR and SRO, discarding those that are not relevant to Open Banking, matching financial institutions from the FCA to the financial institutions as published in each European country and then removing passporting right for all those financial institutions who had passported into the UK EXCEPT those who were in the Temporary Permissions Regime.
For those who are interested the results were as follows:
There are 427 financial institutions who are allowed to provide some form of financial services in the UK for a three-year period, by which time they must either stop doing business or get properly regulated in the UK. Of those, 294 are allowed to do Open Banking in the UK. The breakdown by country is as follows.

There were a few anomalies which we have passed to the FCA such as a Dutch Payment Institution which appears in the TPR, but which was closed down in the Netherlands. These will presumably be corrected shortly as the intention is that the Temporary Permissions Regime reflects the status as found in the Home country that registered it.
Going forward, there are still two key issues for UK banks when dealing with EU entities.
Firstly, are the mapping tables that will need to be maintained from the UK Register to Home National Competent Authority. The eIDAS certificate that the EU Financial institution use for identification contains the Globally Unique Reference Number (GURN). The UK list of authorised EU payment institutions uses the Financial Registration Number (FRN). If you are using the Open Banking Europe Directory, or the Konsentus Verify service this is managed for you.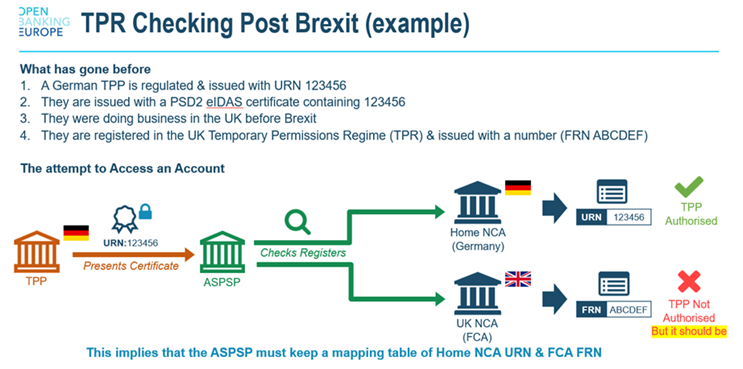 Secondly is the ongoing topic of synchronisation between the TPR and the national registers. Arguably this is more a problem for the FCA than the banks, but it does leave the banks with a question about what to do if they find that an entity is authorised in the UK but is no longer authorised in their home country. Do they grant access or not?
Admittedly, these are minor operational issues, compared to the immense pace of change that will occur within and between Open Banking Ecosystems during 2021, but the fundaments of identification are important.